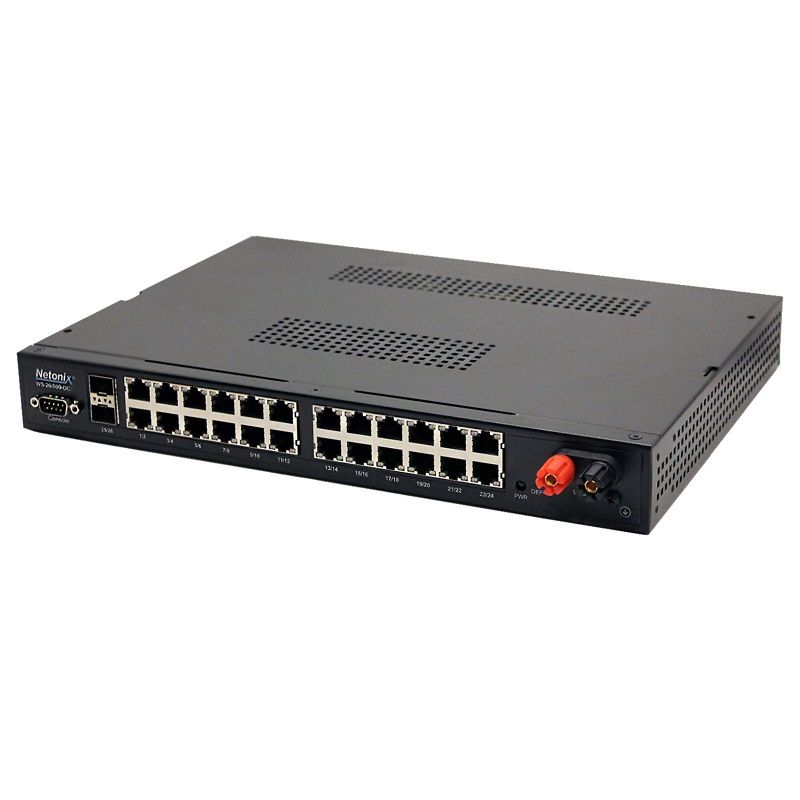 Netonix WS-26-DC 26 Port POE Switch Conditioned DC Power
---
---
---
Share this product:
Netonix WS-26-500-DC 26 Port 500W SMART DC Power POE Switch
The Netonix® WISP Switch™ model WS-26-500-DC is designed specifically for the WISP industry with a rugged chassis and extended operating temperature range. It features a simple yet powerful user interface providing the software features WISPs need in a switch.
Configureable voltage / current

  24V PoE Ports   
Pins 4,5 (+)
Pins 7,8 (-)
.75A 

  48V PoE Ports  
Pins 4,5 (+)
Pins 7,8 (-)
.75A 

  24VH PoE Ports  
Pins 1,2,4,5 (+)
Pins 3,6,7,8 (-)
1.5A 

  48VH PoE Ports  
Pins 1,2,4,5 (+)
Pins 3,6,7,8 (-)
1.5A 

Ports 01-24
Ports 01-24
Ports 01-02
Ports 01-06

 

      

Manufactured and Assembled in North America
Standard Desktop / Wall mount
Optional 19" rack mount kit / Din Rail kit
Dimensions 343 mm x 248 mm x 44 mm
Operating temperature -25 to 55°C
Serial console port
Passive PoE current sensors on each port
Monitor DC voltage and current into the switch from your batteries.
Monitors the DC power supply temperature with auto and programmable thermal shutdown.
Program the switch to shut down lower priority POE ports when batteries get low and to restore them when sufficient reserves return or when it detects charging has resumed from solar or wind.
If power gets too low it can be configured to shut down all POE ports and hibernate your remote site until it detects solar or wind charging has resumed and sufficient reserves are generated.
You can chose to run your batteries all the way down to 9V to keep the tower up or have it shut down in stages to preserve your energy.
Since we designed the power supply to have its own micro processor and to communicate to the switch itself we have full control over the power supply and all relative telemetry generated by sensors built into the power supply.
This is a preview of the recently viewed products by the user.
Once the user has seen at least one product this snippet will be visible.
Recently viewed Products