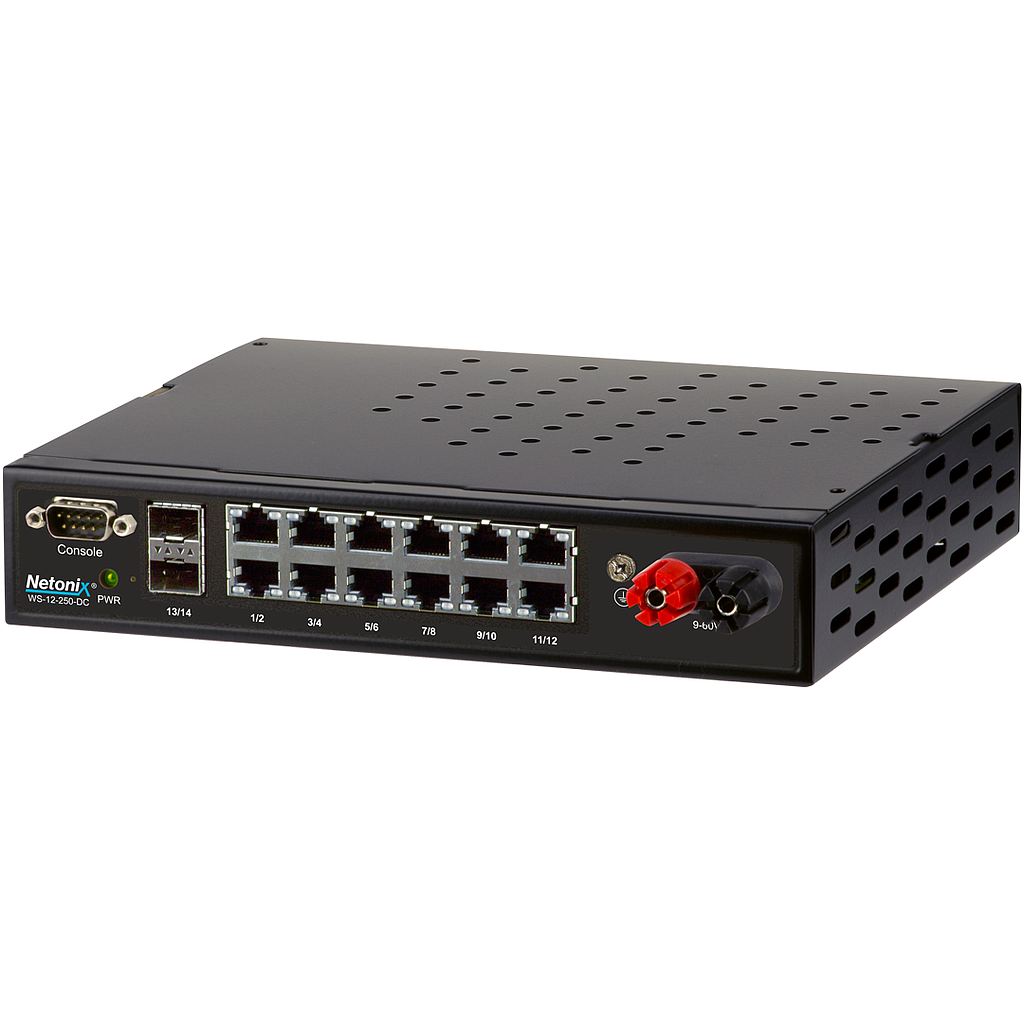 Netonix WS-12-250-DC 12-Port Managed POE Switch DC 250W
---

Netonix® designs, manufacturers, and distributes high-performance networking equipment for the WISP industry worldwide. Netonix® equipment focuses on being highly rugged, advanced and easily deployable to appeal to a fast growing global WISP industry. The Netonix® mission is to manufacture and assemble as many products possible in North America because we believe in the quality and value of products produced here providing good paying jobs that strengthen our economy.
---
---
Share this product:
Netonix WS-12-250-DC 12-Port Managed POE Switch DC 250W
Product Code: WS-12-250-DC
NCS version [No Current Sensor] - does not report watts used
Managed 12 Port passive POE Switch + 2 SFP Uplink Ports
Designed to hook directly to battery bank not a power supply.  Always use an inline fuse or breaker.
If you have a 48V-54V power supply you should use the WS-12-DC unit.
250 Watt SMART DC power supply accepts 9V to 72V DC variable input while providing uninterrupted 24V and 48V POE
- 250 Watt POE budget when input voltage above 12V
- 200 Watt POE budget when input voltage above 11V
- 150 Watt POE budget when input voltage below 10V
WARNING: These switches are not designed to operate on negative 48V sites, using -48V DC will damage the switch as it does not have isolated input output power.
If you need negative DC input look at the WS-26-400-IDC.
NOTE: Optional rack mount or DIN Rail kit sold seperatly
Monitor DC voltage and current into the switch from your batteries.
Monitors the DC power supply temperature with auto and programmable thermal shutdown.
Program the switch to shut down lower priority POE ports when batteries get low and to restore them when sufficient reserves return or when it detects charging has resumed from solar or wind.
If power gets too low it can be configured to shut down all POE ports and hibernate your remote site until it detects solar or wind charging has resumed and sufficient reserves are generated.
Since we designed the power supply to have its own micro processor and to communicate to the switch itself we have full control over the power supply and all relative telemetry generated by sensors built into the power supply.
Chose to run your batteries all the way down to 9V to keep the tower up or have it shut down in stages to preserve your energy.
Product Specifications:
Manufactured and Assembled: North America

Standard 19" rack mount / Desktop / Wall mount: Yes

Dimensions: 223mm x 181mm x 44mm

Weight: 2 kg

Power Input: 9-60 VDC

Chassis Earth Ground Lug: YES

Max. Power Consumption: N/A

Intelligent Forced Air Cooling With Fan RPM Monitoring: YES

Switch Core and PHYs: Vitesse

Processor: MIPS 24K 416 MHz

System Memory: 128 MB

Flash Storage: 16 MB

Total Non-Blocking Line Rate: 14 Gbps

Certifications: CE, FCC, IC

Operating Temperature: -25 to 55°C (-13 to 131° F)

Operating Humidity: 5 to 95% Non-Condensing

Console Port: RS-232

Ethernet Ports: (12) 10/100/1000 Ethernet Ports

(2) SFP Ports

Passive PoE Configured Per Port via UI:

24V 1A pins 4,5(+) 7,8(-)

48V 1A pins 4,5(+) 7,8(-)

24VH 2A pins 1,2,4,5(+) 3,6,7,8(-)

48VH 2A pins 1,2,4,5(+) 3,6,7,8(-)

PoE Out Voltage Range: 48-50 VDC / 22-24 VDC

Passive PoE Current Sensors Per Port: Yes

ESD Rating: 24 kV Air / 24 kV Contact

Manufactured in North America

Standard Desktop / Wall mount

Optional 19" rack mount kit / DIN Rail

Dimensions 223 mm x 181 mm x 44 mm

Operating temperature -25 to 55°C (-13 to 131° F)

Serial console port
Product Includes:
(1) Netonix WS-12-250-DC Switch

(1) Standard Desktop / Wall Mount

(1) User Manual
WARNING:  If you drain 12V batteries below 10V you may need a 10A charger to recover.
This is a preview of the recently viewed products by the user.
Once the user has seen at least one product this snippet will be visible.
Recently viewed Products