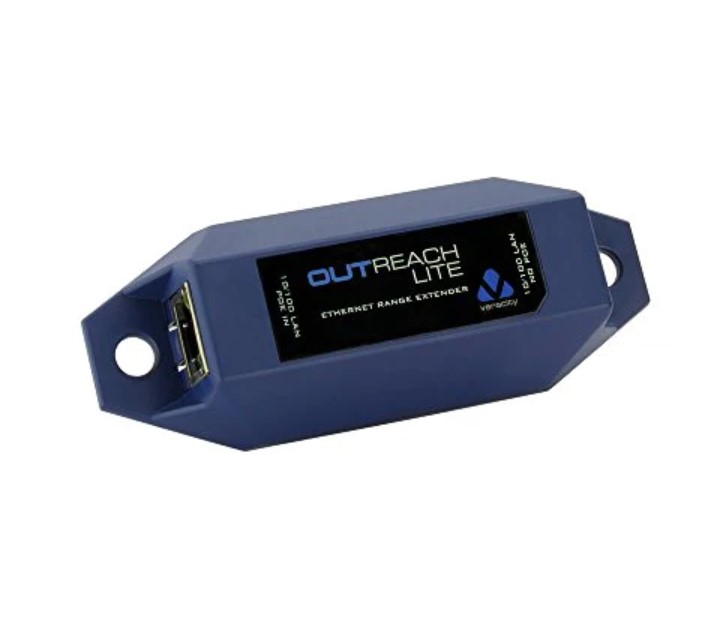 Veracity VOR-ORL OUTREACH Lite 100m LAN - NO PoE output
---
---
---
Share this product:
Veracity VOR-ORL OUTREACH Lite 100m LAN - NO PoE output
Veracity VOR-ORL Outreach Lite Ethernet Extender OUTREACH Lite provides a simple way to double the length of a 10/100 Ethernet connection. No configuration is required, it does not require a local power supply, and it does not restrict the throughput of the network link at all.
Compact and wall-mountable, OUTREACH Lite takes its power from the network cable using the universal 802.3af Power over Ethernet (POE) standard. Network connections can easily be upgraded to POE compatibility if it is not already available using a simple injector.
Note: OUTREACH Lite is powered by POE but does not forward it to other equipment. To extend network connections to devices that need POE or POE Plus, see Veracity's OUTREACH Max POE-forwarding Ethernet extender.
Rapid installation Extending network cable runs from an existing POE switch port is as simple as connecting OUTREACH Lite in-line with the cable. Cable runs of up to 200 metres (656 feet) in length are possible, by using a single OUTREACH Lite to connect two individual sections of up to 100 meters (328 feet) each.
Veracity's OUTREACH Lite Ethernet extender requires no external power supply. It simply has two network ports which configure automatically on connection for network speed, duplex and crossover.
If no POE is available on the network, Veracity's OUTSOURCE injector can easily be added at either end of the connection. No other equipment is required by end devices, as all Cat5/Cat6 links are regular Ethernet connections.
Full-bandwidth Ethernet extender, because OUTREACH Lite repeats the Ethernet signal before it can degrade, the network can be extended without any restriction on its data capacity. Thus the 200Mbit/s bandwidth of regular full-duplex 100BASE-T Ethernet is maintained, for maximum reliability and predictability of operation.
Go further OUTREACH Lite can be used in combination with Veracity's OUTREACH Max POE-forwarding Ethernet extender, to create connections of 300 metres, 400 metres or even further.
For example, to extend a 100BASE-T connection to 400 metres (1312 feet) without any bandwidth restriction, two OUTREACH Max units would be located at 100 metre intervals, followed by an OUTREACH Lite. POE from the switch or injector would be forwarded by the OUTREACH Maxes as far as the OUTREACH Lite, so no power connections would be required along the connection.
This technique can be used to create unrestricted Cat5 network connections of greater than 2km (1.25 miles) in length if required. See Veracity's "Long Range Ethernet Extension" application note for more information
This is a preview of the recently viewed products by the user.
Once the user has seen at least one product this snippet will be visible.
Recently viewed Products