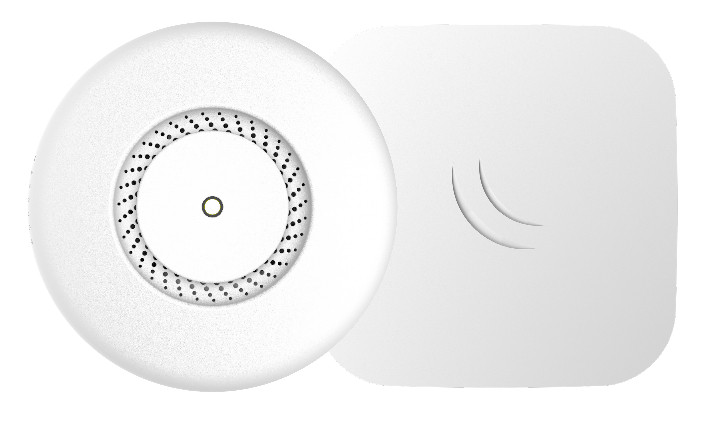 MikroTik RBcAPGi-5acD2nD-XL cAP XL ac Dual Band Dual Chain
---

MikroTik provides hardware and software for Internet connectivity. Our experience in using industry standard PC hardware and complete routing systems allowed us in 1997 to create the RouterOS software system that provides extensive stability, controls, and flexibility for all kinds of data interfaces and routing.
---
---
Share this product:
MikroTik RBcAPGi-5acD2nD-XL cAP XL ac Dual Band Dual Chain
Need a nice-looking access point that won't get in your way? Or perhaps you're managing the network in a crowded place and don't want everyone to have physical access to the device? Either way – ceiling is the answer! The device itself is pretty sleek - the low profile attracts less attention than a smoke detector. Your clients, guests, or colleagues won't even notice it. But they will definitely notice the blazing fast wireless connection all across the premises.
The new design features a larger high-gain antenna, higher sensitivity, and a built-in reflector. These improvements allow increasing the covered area by up to 100%, compared to the previous cAP models!
The dual-band, dual-chain 2.4 and 5 GHz wireless radio provides a strong coverage in 360 degrees around it, so you don't have to worry about the placement of the device so much. Putting it on the ceiling eliminates many signal absorption problems, such as the signal being blocked by large TV sets, metal cubicle walls in open space offices, etc.
Even though the radio supports repeater mode, the two Gigabit Ethernet ports give you the ability to extend your network with cables, even if PoE power is required: the cAP XL ac supports 802.3af/at PoE input on the first port and passive PoE output (up to 57V) on the second port.
Specifications:
Product code RBcAPGi-5acD2nD-XL
Architecture ARM 32bit
CPU IPQ-4018
CPU core count 4
CPU nominal frequency 716 MHz
RouterOS license 4
Operating System RouterOS
Size of RAM 128 MB
Storage size 16 MB
Storage type FLASH
MTBF Approximately 100'000 hours at 25C
Tested ambient temperature -40°C to 70°C
IPsec hardware acceleration Yes
Wireless capabilities:
Wireless 2.4 GHz Max data rate 300 Mbit/s
Wireless 2.4 GHz number of chains 2
Wireless 2.4 GHz standards 802.11b/g/n
Antenna gain dBi for 2.4 GHz 6
Wireless 2.4 GHz chip model IPQ-4018
Wireless 2.4 GHz generation Wi-Fi 4
Wireless 5 GHz Max data rate 867 Mbit/s
Wireless 5 GHz number of chains 2
Wireless 5 GHz standards 802.11a/n/ac
Antenna gain dBi for 5 GHz 5.5
Wireless 5 GHz chip model IPQ-4018
Wireless 5 GHz generation Wi-Fi 5
AC speed AC1200
Ethernet:
10/100/1000 Ethernet ports 2
Number of 1G Ethernet ports with PoE-out 1
Powering:
Number of DC inputs 1 (PoE-IN)
Max power consumption 24 W
Max power consumption without attachments 11 W
Cooling type Passive
PoE in 802.3af/at
PoE in input Voltage 18-57 V
This is a preview of the recently viewed products by the user.
Once the user has seen at least one product this snippet will be visible.
Recently viewed Products