Positron GAM-8-MRX OUTDOOR G.hn Access Multiplexer (GAM) with 8 MIMO ports and 1 x 10 Gbps SFP+ port. Reverse Power Feed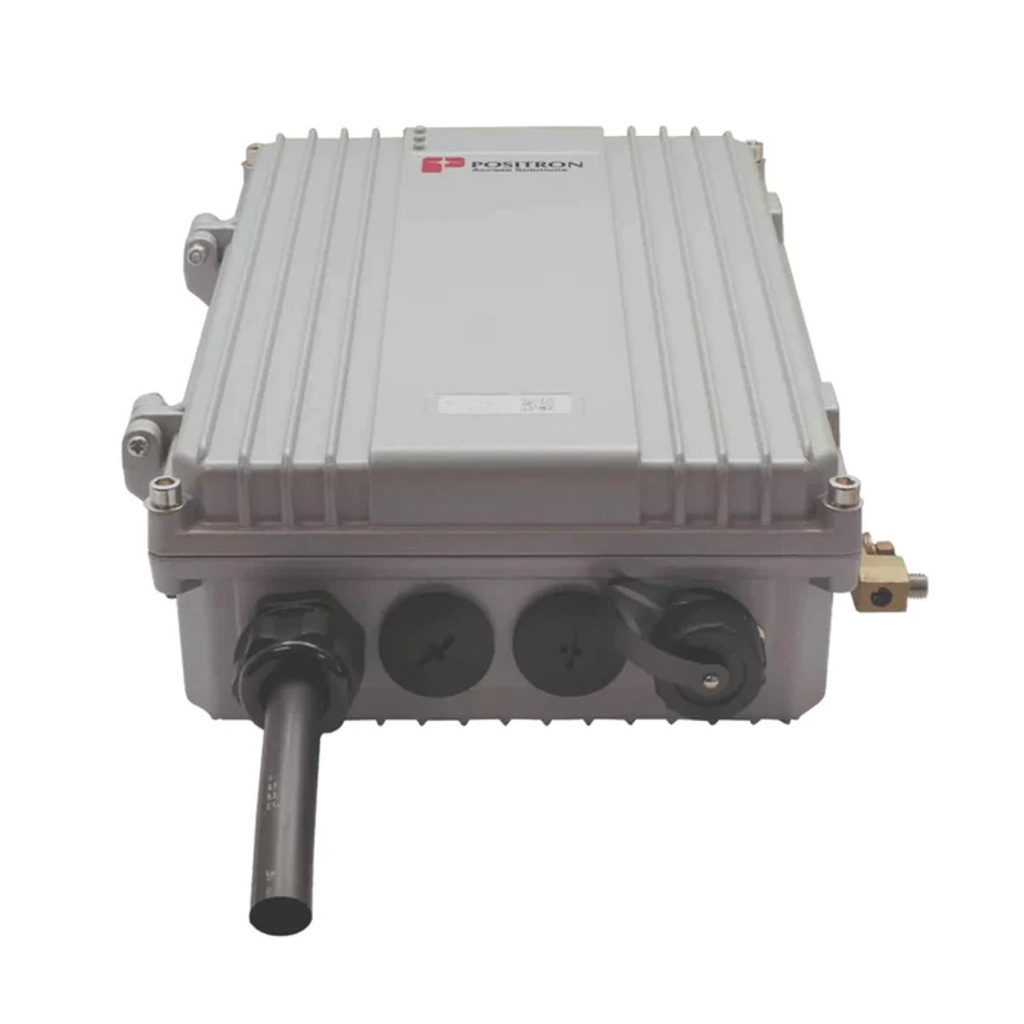 Positron GAM-8-MRX OUTDOOR G.hn Access Multiplexer (GAM) with 8 MIMO ports and 1 x 10 Gbps SFP+ port. Reverse Power Feed
---
---
Share this product:
Positron GAM-8-MRX OUTDOOR G.hn Access Multiplexer (GAM) with 8 MIMO ports and 1 x 10 Gbps SFP+ port. Reverse Power Feed
How it works
Delivering Gigabit to the Home Positron GAM-4-MRX, GAM-8-MRX and GAM-4-CRX Rugged / Extended Temperature Reverse Power Fed GAM Devices
"Fiber to the Home" is far from the only and most efficient technology to deliver Gigabit Internet access to subscribers. Retrofitting an existing (brownfield) Multi-Dwelling Unit (MDU) with fiber is complex, highly disruptive and expensive. With the G.hn Aggregation Multiplexer (GAM), Positron Access addresses the key challenge of delivering Gigabit Internet access to subscribers in MDUs as well as dense Single Family Unit (SFU) homes by leveraging the existing telephone or coaxial infrastructure to deliver near symmetrical Gigabit services at a fraction of the cost of alternatives.
About the Rugged Outdoor Positron GAM Devices
The Positron G.hn Access Multiplexer (GAM) family now includes rugged versions for deployment in harsh environments (outdoor) where there is no local power source. These GAM devices obtain their power from the G1001-MR over the copper wiring or G1001-CR over the COAX cabling. The outdoor GAM devices offer the same feature and management capabilities as their indoor counterpart. They optimize coverage of Gigabit Internet services in an MDU and operate over twisted-pair cabling in Point-to-Point mode while operation over a coax infrastructure is in Point-toMultipoint mode where each COAX port can serve up to sixteen (16) G1001-CR devices.
The GAM-4-MRX and GAM-8-MRX respectively have four (4) and eight (8) MIMO ports and support Reverse Power Feed (RPF) from G1001-MR devices, one per G.hn port. The GAM-4-CR has four (4) COAX ports and supports RPF mode from G1001-CR devices, one or more (in Point-to-Multipoint mode) per G.hn port.
The G1001-MR and G1001-CR (G.hn to Ethernet Managed Demarcation Point devices) power the Positron rugged IP67 (outdoor and Extended Temperature) GAM family with support for the ETSI RPF standard. Support for RPF facilitates the installation of the GAM outside of the MDU and in areas where it is not simple or cost effective to install a local power source. Each G.hn port of an outdoor GAM is powered from a G1001-MR (copper) or G1001-C (coax).
About G.hn
The ITU-T G.9960 G.hn Wave-2 standard leverages the existing telephone wiring (UTP, CAT-3 or CAT5/5e) or RG-6/RG-59 coax cabling as an access technology that delivers a Gigabit Internet service to each subscriber at a lower cost and without the complexity and delays associated with in-building fiber installation. G.hn is used as an Access technology by Operators looking to simplify their access network and backend infrastructure with an Ethernet-like technology that is highly scalable without some of the inherent complexity of DSLrelated technologies. Operators increasingly rely on G.hn to extend fiber or fixed wireless Gigabit services and avoid the high capital and operational expenses of a fiber retrofit. The Positron GAM solution is MEF CE 2.0 compliant and is ideally suited to deliver Business Ethernet services in an MDU and/or MTU deployment.
G.hn is a Proven Carrier-Grade Access Technology
G.hn is widely used by large Operators in multiple markets where it provides Gigabit services into buildings of all sizes as well as for residential neighborhoods. These Operators leverage the robustness of G.hn and its predictable bandwidth to scale to large deployments that complement their investment in their PON infrastructure.
As is the case with other ITU DSL and PON standards, G.hn offers extensive management and troubleshooting features and capabilities to simplify its deployment, activation and support. These management capabilities cover all operational aspects, from dealing with wiring issues to service-aware QoS and bandwidth management. The G.hn ecosystem is very solid and includes verified interoperability between the three (3) main chipset vendors based on extensive testing by the University of New Hampshire (UNH) lab.
About the Positron G.hn Access Multiplexer and Reverse Power Feed Support
When operating in a Reverse Power Feed mode, the outdoor GAM devices will always make sure that each G.hn End-Point devices it serves evenly contribute to provide power to the GAM via RPF. This means that the outdoor GAM will reject G.hn End-Point devices that do not provide their share of the power required by the GAM. A single subscriber is sufficient to power its serving G.hn port and the main circuitry of the GAM, including the uplink port.
The G1001 devices control how a Residential Gateway (or User CPE) connects to the G.hn Access Network under the control of the Positron GAM. In this role, they make sure the information transmitted over the G.hn link is secure with strong AES-128 encryption. When used in Point-to-Multipoint mode (coaxial wiring), the G1001-CR operates under control of the GAM to isolate the traffic from each subscribers that share the same coax splitter.
NOTE: when there are multiple G1001-CR devices on the same GAM Coax port, each of the G1001-CR will share the power load evenly amongst them.
Simplified Commissioning of GAM Devices
The RPF versions of the GAM support a local -12Vdc power input accessible inside the IP67 enclosure and can accept any suitable power sources such as the accessory power outlet of a technician service truck or a portable battery. This is particularly useful to validate the uplink upon the installation of the GAM and to handle the initial provisioning of the GAM. You can do this via VIRTUOSO using its Auto-Discovery and Provisioning capabilities or via the embedded WEB GUI / CLI of the GAM via its Management or Craft ports. The -12Vdc power input can also be used to power the GAM during normal operation if desired.
The Positron GAM leverages a non-blocking CE 2.0 Carrier Ethernet Core ASIC for the reliable delivery of managed Gigabit services. The GAM is a Fiber to the Distribution Point (FTTDp) solution. The GAM-8-MRX / GAM-4-MRX and GAM-4-CRX come with one (1) 10 Gigabit SFP+ interface to support any type of fiber or PON standards (using an ONT as required).
G.hn Delivers Superior Bandwidth G.hn consistently delivers superior bandwidth over twisted pair wire and coaxial cable. G.hn dynamically adjusts the allocation of the bandwidth between the downstream and upstream direction to reflect the real-time traffic conditions for optimal and near-symmetrical performance under all conditions.
With the Positron GAM, high-speed Gigabit Internet Services are more stable, reducing support calls and customer churn. The GAM software extends its management capabilities to the G.hn end-point (aka G.hn to Ethernet Bridge) devices such as the Positron G1001-MR and G1001-CR. The GAM hardware enforces per-subscriber bandwidth profiles and guarantees a fair and balanced use of the backhaul link at all times for value-added services such as IPTV, streaming and telephony. Its extensive support for VLAN (including Q-in-Q) allows for seamless integration with the operator fiber services and the OSS and BSS functions already in place. The service OAM capabilities of the GAM provide real-time information to the operator about the overall grade of services without any additional cost or complexity.
With hardware-assisted synchronization to improve the efficiency of Vectoring, the GAM-4-MRX and GAM-8-MRX optimize the bandwidth for each subscriber based on the real-time condition. These GAM devices operate over twisted pair and support Single Input Single Output (SISO) mode, (1 pair per port) and Multiple Input Multiple Output (MIMO) mode (2 pairs per port). Using MIMO instead of DSL pair bonding means that there is no need to allocate two (2) ports to serve a single subscriber, lowering costs and avoiding the complexity of pair bonding.
Deploying the GAM in an MDU / MTU
The GAM devices optimize coverage in an MDU / MTU over the existing wiring infrastructure. Since these GAM devices are Reverse Power Fed by the G1001-MR or G1001-CR End-Point devices, they are deployable anywhere, even outdoors where they can withstand harsh environmental conditions. The GAM devices are enclosed in a rugged IP67 enclosure and support operating temperature of -40˚C to +65˚C. While operation over twisted-pair wiring is always Point-to-Point, operation over a coaxial cabling infrastructure can be Point-to-Multipoint using standard coax splitters. In this mode, a 4-port GAM can serve up to 64 G.hn subscribers with up to 16 subscribers per port.
GAM Outdoor Diagram
The Positron GAM takes advantage of Positron's VIRTUOSO software-based Domain Controller to control and manage GAM devices. VIRTUOSO presents a native management interface to the existing OSS and BSS systems of operators. VIRTUOSO operates as a standalone management server. VIRTUOSO also acts as a Persistent Management Agent (PMA) for powered off GAM due to the lack of active subscribers that provide the Reverse Power Feed. The PMA function will cache any configuration or firmware updates and will apply them to the GAM when it reports it is back in action. Whether interfacing with an ILEC/CLEC or a Cable Operator, the VIRTUOSO Domain Controller handles the management of the G.hn end-node served by a GAM. The OLT and Aggregation Router transparently handle Internet traffic with a single or double VLAN tag per subscriber. A Fixed Wireless Access (FWA) radio link can be used instead of fiber.
This is a preview of the recently viewed products by the user.
Once the user has seen at least one product this snippet will be visible.
Recently viewed Products