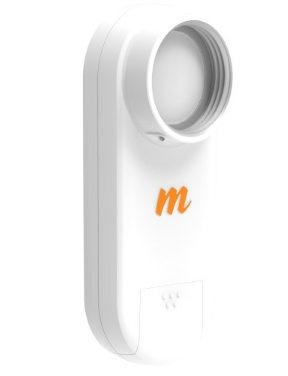 Mimosa C5x-IP67 4.9-6.4GHz 8dBi Radio for PTMP/PTP
---
The next generation of consumers will rely on wireless communication for everything. Mimosa is pioneering technology to bring the world a bigger, faster and stronger Internet. We believe that the future of the Internet is bigger capacity, faster speeds and better reliability. Mimosa wants to bring next generation Internet access everywhere. Whether your wireless access is non-existent or just too slow for the applications you need - Mimosa has the solution.
---
---
Share this product:
Mimosa C5x 4.9-6.4GHz 8dBi Radio for PTMP/PTP
Product Code: C5x
Mimosa C5x 4.9-6.4GHz 8dBi Radio for PTMP/PTP
Mimosa C5x (100-00085) is the industry's most versatile, modular, radio solution with five gain options (8, 12, 16, 20 and 25 dBi). The ultra-rugged solution provides extended frequency operation from 4.9–6.4 GHz, with best-in-class noise immunity. Delivering the ultimate in flexibility and value, the C5x is the go-to solution for 5 GHz deployments. Out of the box, the C5x can be used in PTMP mode, with Ethernet link speeds of up to 100 Mbps.
Product Features:
Four Twist-On, Flexible Antenna Options

PTP or PTMP Modes (feature key may be required)

Extended Frequency 4.9–6.4 GHz

Best-in-Class Noise Immunity

Ultra Rugged

Low-Power Consumption

Ultra Reliable

Gigabit Ethernet: 10/100/1000-Base-T

Management Services: Mimosa cloud monitoring and management; SNMPv2 & Syslog monitoring; HTTPS; HTML5-based web UI
Performance:
           PTP: 700 Mbps IP (866 PHY)
           PTMP: 500 Mbps IP (866 PHY)
Wireless Protocols: Mimosa SRS; WiFi Interop

Modes: PTP Backhaul (requires feature key); PTMP Client
Radio:
MIMO and Modulation: 2x2:2 MIMO OFDM, up to 256 QAM

Bandwidth: 20/40/80 MHz channels, tunable to 5 MHz increments for Mimosa SRS and WiFi Interop mode

Frequency Range: PTP/PTMP: 4900–6400 MHz (restricted by country of operation)

Max Output Power: 27 dBm

Sensitivity (MCS0):

87 dBm @ 80 MHz

90 dBm @ 40 MHz

93 dBm @ 20 MHz
Power:
Max Power Consumption: 9.2 W average; 12.9 W max

System Power Method: Passive POE (24-56 VDC)

PoE Power Supply: Passive POE compliant, 24-56 V

Power over Ethernet supply (not included)
Dimensions:
  Height: 175 mm (6.89")

  Width: 70 mm (2.75")

  Depth: 61 mm (2.40")

  Weight: 0.37 kg (0.82 lbs)
RF Connector Type: Mimosa N5-X twist-on
Enclosure Characteristics: Outdoor, die-cast aluminum, UV stabilized paint
Mounting: Dual attached pole mount straps
Environmental:
Outdoor Ingress Protection Rating: IP55
Operating Temperature: -40°C to +55°C (-40°F to 131°F)
Operating Humidity: 5 to 100% condensing
Operating Altitude: 4,420 m (14,500') max
Shock & Vibration: ETS 300-019-2-4 class 4M5
Other Specifications:
Gain: 8dBi
Polarisation: Dual-slant 45deg;
Beamwidth, Symmetric (3 dB): 58deg;&
Front-to-back Ratio: 21dB
Front-to-Side Ratio (min): 21dB
Wind Loading 2.79 kg @ 160 km/h (6.14 lbs @ 100 mph)
This is a preview of the recently viewed products by the user.
Once the user has seen at least one product this snippet will be visible.
Recently viewed Products