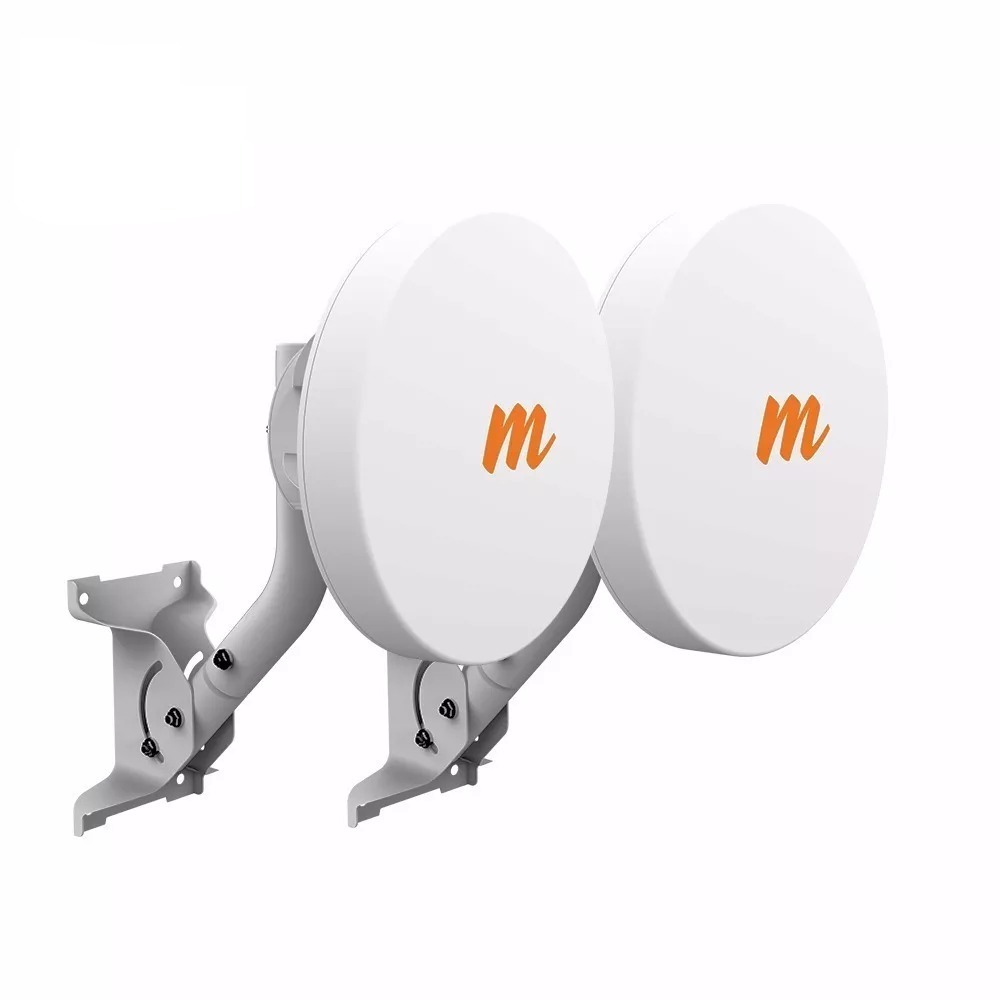 Mimosa B5 5GHz 1Gbps Capable PtP Backhaul
---
---
---
Share this product:
Mimosa B5 5GHz 1Gbps Capable PtP Backhaul
The Mimosa B5 Backhaul is changing the game. Leveraging 802.11ac, 4x4:4 MIMO and radical engineering for service providers that demand the same capacity, speed and reliability as fibre. With 1.7 Gbps PHY and a unique spin on reliability, the B5 is re-defining gigabit wireless technology.
The B5 is capable of 1 Gbps throughput, a low 2 ms latency and has an integrated dual-polarised antenna with 25 dBi of gain. Ready to handle the next wave of 5 GHz, the B5 is operational from 5150-5850 MHz*.
The B5 brings with it an entirely new set of features never seen before in the outdoor wireless market.
Mimosa B5-160 Specifications:
Performance
Max Throughput Up to 1.0 Gbps IP ( 1.7 Gbps PHY )
Low Latency 2+ ms
Wireless Protocols TDMA
Radio
MIMO & Modulation 4x4:4 MIMO OFDM up to 256QAM
Bandwidth Single or Dual 20/40/80 MHz channels
Frequency Range 5150-5850 MHz restricted by country of operation (UNII 2 US FCC certification pending)
Max Output Power 30 dBm (2-stream), 27 dBm (4-stream)
Sensitivity ( MCS 0 ) -87 dBm @ 80 MHz
-90 dBm @ 40 MHz
-93 dBm @ 20 MHz
Antenna
Gain 25 dBi
Beam-width ( 3dB ) 8° ( Hpol and Vpol )
Elevation Adjust ± 20° mechanical adjust
Front-to-Back Ratio >30 dB
Cross-Polar Isolation >20 dB or better
Polarisation Dual-Linear (horizontal & vertical)
Power
Max Power
Consumption 20W
System Power Method 802.3at compliant
System Lightning &
ESD Protection 6 kV
PoE Power Supply 56 V Power over Ethernet supply with IEC61000-4-5 surge protection
Physical
Dimensions Diameter: 442 mm (17.4")
Depth: 362 mm (14.3") with bracket
Weight 4.9 kg (10.8 lbs) with bracket
Enclosure
Characteristics Single enclosure with radome
Outdoor UV stabilised plastic
Painted steel bracket plate
Wind Survivability 200 kmph (125 mph)
Wind Loading 39 kg @ 160 kmph (86 lbs @ 100 mph)
Mounting Pole mounting kit included for 30mm (1.18") to 90mm (3.54") OD pipes
Environmental
Outdoor Ingress
Protection Rating IP67
Operating
Temperature -40°C to +55°C (-40°F to 131°F)
Operating Humidity 5 to 100% condensing
Operating Altitude 4420 m (14500') maximum
Shock & Vibration ETS 300-019-2-4 class 4M5
Features
Gigabit Ethernet 10/100/1000-BASE-T
Dual Link
Operation 2 independent dual-stream radios operating on non-contiguous frequencies
Automatic load balancing of traffic across 4 total MIMO streams with individual stream encoding up to 256 QAM
Management
Services Mimosa cloud monitoring and management SNMPv2 & Syslog legacy monitoring HTTPS HTML 5 based Web UI
2.4 GHz 802.11b/g/n radio for local management access
Smart Antenna
Alignment Hands-Free dedicated 2.4 GHz Wi-Fi management radio
Smart Spectrum
Management Active scan monitors/logs ongoing RF interference across channels (no service impact)
Dynamic auto-optimisation of channel and bandwidth use
Security 128-bit AES PSK with hardware
acceleration
QoS Supports 4 preconfigured QoS levels
GPS Location GNSS-1 (GPS + GLONASS)
Colocation
Synchronisation 1PPS GPS TX/RX synchronisation for colocated co-channel radios
Adjustable up/downstream bandwidth ratio
Regulatory + Compliance
Approvals FCC Part 15.407, IC RS10, CE,
ETSI 301 893/302 502 &  RCM
RoHS Compliance Yes
Safety UL/EC/EN/ 60950-1 + CSA-22.2
This is a preview of the recently viewed products by the user.
Once the user has seen at least one product this snippet will be visible.
Recently viewed Products